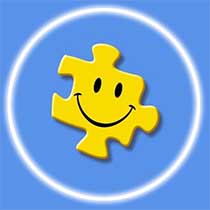 Take those good feeling with you wherever you go
In this article, I'll take you through the easy steps of this NLP Classic anchoring technique, the circle of excellence.
I really love this technique, it's so simple and at the same time so effective. It really works!
You may be wondering why you should memorize and practice the circle of excellence, check this out:
According to an article by James Clear "The Science of Positive Thinking", published by Huffington Post:
Positive emotions broaden your sense of possibilities and open your mind, which in turn allows you to build new skills and resources that can provide value in other areas of your life. As we discussed earlier, negative emotions do the opposite. Why? Because building skills for future use is irrelevant when there is immediate threat or danger (like the tiger on the path).
In other words, if you can learn to harness positive states your mind will be more available to absorb new information and learn new skills, and positive states are what the circle of excellence technique is all about! It's a no-brainer!
Beyond that…..
Do you ever feel weighed down by negative emotional chatter in your head? Ever have that 'endless funk' feeling where you're just down and can't seem to get back up again?
This may be the time for you to take charge of your inner life and the circle of excellence could be a primary tool in your effort to develop mentally and emotionally.
How?
The circle of excellence technique harnesses your positive, resourceful qualities and brings them into your day-to-day experience.
Perhaps you feel you are lacking in self-confidence, or it feels that life is getting too heavy? Maybe you have a monumental task ahead of you and feel you might not be able to do it.
Whatever the case may be, experiencing the positive feeling behind the accomplishments, good qualities, and potential that you have will greatly benefit you.
When you feel yourself in need of setting this up for yourself…
Using your imagination draw a circle on the ground in front of you. large enough to step into.
Now have a think about something really positive. Perhaps a great memory, good times with friends, a party, some sort of occasion
Focus in on those feelings and make them more intense. Perhaps there's a feeling in your body? Play with it so that you really feel those feelings. A colour? Make it more intense. A sound? Make it so the sound is making you feel great
And step into your circle……
Enjoy those feelings, feeling good eh…
And step out of your circle.
You have now got a great resource in your circle, and in a moment I'll show you how you can use it anytime you want
But before I do why not add another resourceful state in the same way? Do you want to have excitement in there? Add it in! Confidence? Calm? Feeling resourceful? Feeling good?
Go through and add them in, it's your circle, you can have whatever you want!
You now have an excellent resource for feeling wonderful, and using it is really, really easy.
Using your circle, any time you want!
All you have to do is step inside your circle and experience all of those wonderful positive states. That's it, just take a step in!
IF you want you can pick up your circle and keep it for later use. Keep it on your person, perhaps in a pocket, on your key Chain. As a ring or bracelet. It's a magic circle, so even if you change clothes it will still be there for you.
Now, whenever you need it you can pop it on the floor in front of you and take that simple step to feeling great.
How about you're doing a presentation? Pop it on the floor before you start and set yourself up for feeling really positive.
The possibilities are endless…
Nice, huh? You did it! The NLP circle of excellence is all yours.
It's so simple, why not practice by teaching a friend or loved one the circle of excellence and show them how to use this amazing technique to feel great?
Would you like to know more?
Our blog page has many more articles for you to read.
Alternatively, head over to our NLP glossary where you can find a list of NLP terms with lots of links to articles.
If you'd like to find out more about our courses where you can learn more head over to our courses page. 
Thanks for reading!
Chris
ABNLP Trainer
Founder: Insights NLP
Phone +62 (0) 812 3895 2053