Practitioner retreat enquiry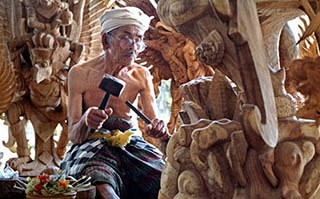 Ubud's traditional market hosts stalls packed with locally made arts and crafts products.
The quality of workmanship on display is a joy to behold and we will spend time exploring the stalls and the goods on offer.
This is a great opportunity to pickup a keepsake or gift for a loved one.
Are you looking for a Bali retreat that will transform the way you look at life?
Insights NLP offers you the opportunity to train at the award-winning Vision Villas luxury resort in Bali.
You can now do your NLP Practitioner course in the tranquil tropical surroundings of this beautiful oasis of calm.

We have put together a special 10 day NLP practitioner Bali retreat
This includes the course itself, certified and accredited by the world's largest NLP regulatory body the ABNLP, along with the opportunity to get to know the island of the Gods.

We'll be setting a gentle but sustained pace on training days, and including days off for you to tour the island and relax in the beautiful setting of the retreat centre.
We limit our group sizes to 10 maximum, so that you know you will get the best possible access to the trainer and asistant during the course.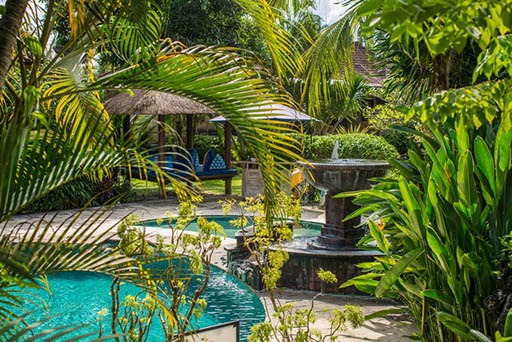 The benefits of becoming an NLP Practitioner
Learn how your mind works, and the 'mind hacks' you can use to get the absolute best from your life. 
Understand how your emotions are connected to your memories and everyday experience. 
Learn how to control and use your emotions to enhance your performance.
Let go of limiting beliefs / phobias and any old patterns that may be holding you back. 
Install new positive patterns.
Align your unconscious drives with your conscious efforts.
Learn how to use this knowledge to not only 'turbo charge' yourself but also how to use these techniques to help others.

NLP is practical. You will learn step by step processes that will give you the results mentioned above, and a host of others.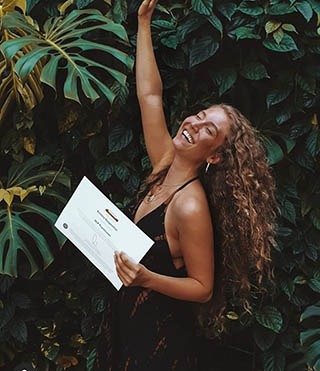 "We tested every single method ourselves. I was sceptical of many things – and to my own surprise, I had my mind blown every day, seeing and feeling first-hand that all methods work.
So much transformation, learning, new insights, so much knowledge gained, emotional release, beautiful connections and a lot of gratitude."
Kris – Transformational guide.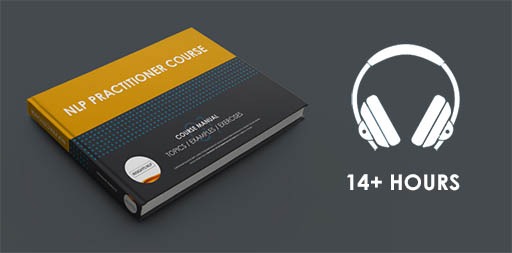 The following pre-course materials come as a part of your retreat
✅ 14+ hour Pre-course audio program
✅ 169 Page digital course manual
✅ Pre-course quiz
✅ Pre-course support. (Get in touch anytime with any questions)
All sent to you before the retreat starts. 
In addition to the training, your 10 day NLP Practitioner retreat package also includes:

✅ 11 nights accommodation
✅ Breakfast / lunch* / dinner
✅ Airport pickup and drop-off
✅ Welcome dinner with Balinese dance
✅ Balinese blessing
✅ Massage
✅ Bali tours including Ubud area and temples
✅ Access to all resort facilities. (Pools / spa / bar / library)
✅ Farewell dinner
* Please note that lunch on excursion days is a small additional extra.
Flights not included. Travel / health insurance not included.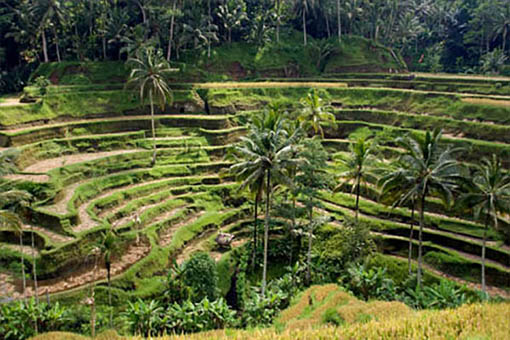 During your Bali retreat at Vision Villas we will take care of all the little details so that you can focus your energies on the training and on relaxing and unwinding throughout your time with us.
This is your time, we don't just deliver the training but, also deliver an experience you will remember forever.
Guaranteed to be an unforgettable experience, you will become a certified NLP Practitioner, spend 10 days in one of the world's most relaxing resorts and also form lasting friendships, I am still in touch with people I did my Practitioner course with over 15 years ago.
Day
Date
Activity
1
Sunday
Arrival...
Airport pickup
Welcome dinner and dance
2
Monday
NLP training #1
3
Tuesday
NLP training #2
4
Wednesday
NLP training #3
5
Thursday
Ubud tour
6
Friday
NLP training #4
7
Saturday
NLP training #5
8
Sunday
Temple tour
9
Monday
NLP training #6
10
Tuesday
NLP training #7
Farewell dinner
11
Wednesday
Checkout - Airport dropoff
Ubud tour
Explore the rich and varied area of iconic Ubud
Tegenungan Waterfall
Coffee Plantation 
Ubud Market
Monkey Forest
Lunch in Ubud at The Elephant Cafe.
Temple tour
Visit the most beautiful and sacred sites in Bali.
Goa Gajah temple
Gunung Kawi
Tirta Empul

The amazing food at Vision Villas is one big reason why we host our retreats here. Prepared with love, the freshest ingredients and totally delicious.
The menu is organic and Chef Cynthia offers all the more traditional choices along with vegan, gluten-free and raw dishes, from Bali and around the world
The drinks, mixed by health food alchemist Kittea Ukkola, are made with local herbs, superfoods and essential oils, as well as herbal tonics and infusions. They taste great and feel even better!
The food is all lovingly prepared by the team at the on-site Genius Cafe. Fresh and cooked to order for you.

They care, and have a policy of using the best ingredients and of preserving the environment with a no plastic-waste policy. For packaging, they use recycled newspaper bags, lovingly made by local Balinese families.
Environmentally sensitive, delicious, healthy, filling and just simply gorgeous food.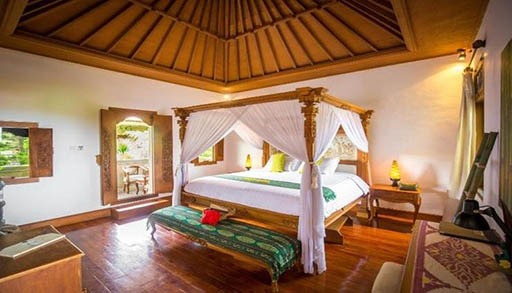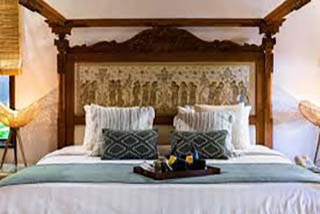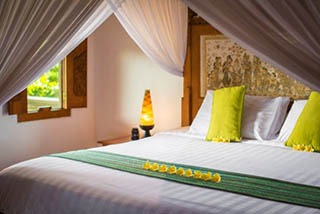 As standard, we offer either twin bed shared accommodation or your own private room. If you would like to explore other options (such as your own private villa on-site) then just let us know. 
Dates:
Sunday 3rd – Tuesday 12th September 2023
Price:
USD 3,500 based on single room occupancy.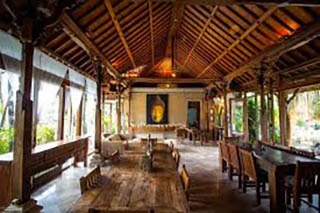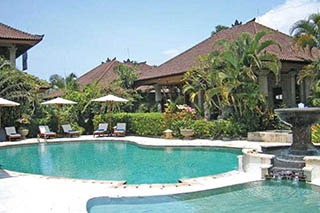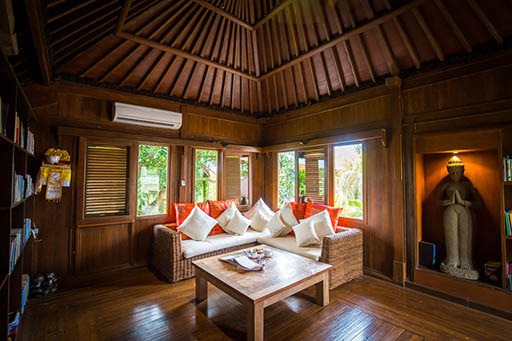 We are super excited about this retreat. NLP is a life-changing and life-enhancing subject and this retreat is a perfect way to learn an incredible set of new skills to use for yourself and with others,  and to pamper yourself in paradise while doing so.
We hope to see you there!
Get in touch to find out more
Drop us an email to register your interest or let us know if you have any questions:
To keep up with the latest news subscribe to our newsletter.
"Very clear explanations. Essentials for life. It was a life changer"
"Great training. Liked the exercises and practical work. Really interesting"
"Very knowledgeable and thoughtful facilitator. Very well organised and smooth."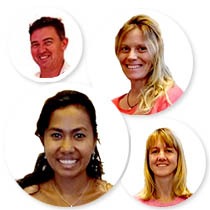 Find out what our previous students have to say about their training experiences with us on our testimonials page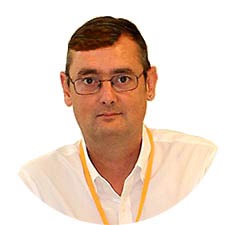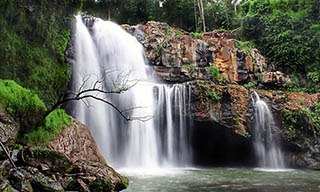 Tegenungan waterfall is one of the natural wonders of Bali.
Winding through the jungle a short 5-minute walk will take you to the foot of these majestic falls.
Although off the beaten track there is a place to change so that you can bathe in the plunge pool below the falls.
Various paths wind up the cliffs leading you to viewing locations ideal for taking that perfect shot.
Beautiful and re-energising.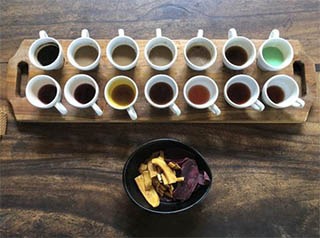 A trip into the mountains will bring you to one of the numerous coffee plantations nestled in the hills around Ubud.
Bali is world-famous for its delicious coffee, being smooth on the palate and mild in taste.
Find out the secrets of how this world famous coffee is produced.
Sit overlooking beautiful scenery as you are treated to a free selection of coffees and teas.
Perhaps buy a bag of roasted beans, or a sachet or two of safron or ginger tea?
Ideal gifts for the loved ones back home.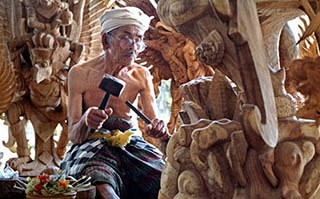 Ubud's traditional market hosts stalls packed with locally made arts and crafts products.
The quality of workmanship on display is a joy to behold and we will spend time exploring the stalls and the goods on offer.
This is a great opportuity to pickup a keepsake or gift for a loved one.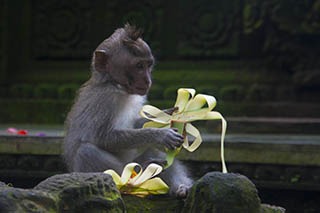 The Monkey Forest as an important spiritual, economic, educational, and conservation center for the village of Padangtegal where it is located.
The 12.5 hectares of forest is home to over 700 monkeys and 186 species of trees.
A bubbling river cuts through the middle of this truely astonishing habitat, an amazing place to spend a few hours immersed in the wonders of nature.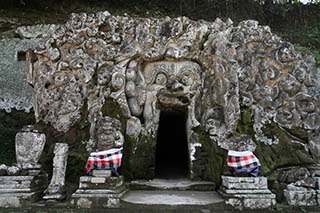 The origins of Goa Gajah, or elephant cave, are shrouded in fokelore and mystery.
One folklore relates that it was created by the fingernail of the legendary giant Kebo Iwa.
It is believed to have been built as a place for spiritual meditation, and to this very day holds a peaceful and calming effect for anyone who visits.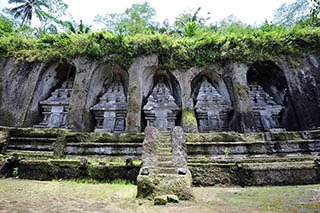 Gunung Kawi is a temple complex in Tampaksiring Bali thats origins date back to the 11th-century
The complex straddles the Pakerisan river and comprises a number of impressive features.
Ten rock-cut candi (shrines) are carved into 7-metre-high (23 ft) sheltered niches of the sheer cliff face. A truely impressive feat of artistry and engineering.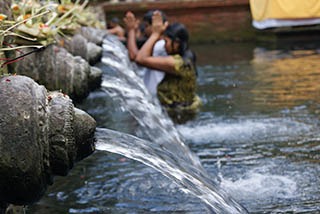 Tirta Empul temple is a Hindu Balinese water temple located near the town of Tampaksiring, close to Ubud.
The temple compound consists of a petirtaan or bathing structure, famous for its holy spring water.
A place where Balinese Hindus go to for ritual purification, it is open for anyone and people are welcome to bathe in the revitalising waters for themselves.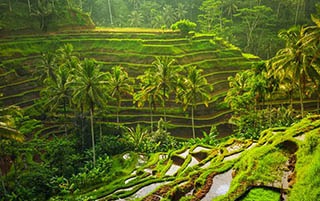 We will take lunch overlooking the rice terraces of of the Tegalalang district of Bali.
The terraces are famed for their beauty and celebrated for their innovative irrigation system known as the sabuk.
Designated a UNESCO World Heritage Site, the stunning Tegalalang Rice Terraces are comprised of cascading emerald-green fields worked by local rice farmers.

In association with
PT. DreamCatchers