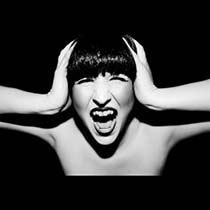 Are your self-critical voices running your life?
Are they driving you to utter distraction?
Learn how to develop the mindset to stop any negative self-chatter that may be holding you back.
We'll explore how to stop self-critical thoughts with this NLP Mindset.
It doesn't matter where you are or what you're doing. If you tend to be too self-critical of yourself even the best day can be ruined.
The inner critic can be a source of angst. Below I'll explore the mindset that heals self-criticism and can help to stop self-critical thoughts from taking over.
End Self-Critical Thoughts by Addressing your Inner Critic
Have you ever caught yourself in the following mind patterns?
Thinking that if you do well, it's still not good enough.
Being convinced that if something can go wrong it will.
If you're in a beautiful setting, then you probably don't deserve to be there.
Thinking that if you speak up, you'll sound stupid.
Worrying that if you relax, something bad will happen.
Being concerned that if you say no, people will hate you.
While that self-critical voice is wreaking havoc in our mind, most of us try to ignore it or distract ourselves, or override the inner voice with positive affirmations. If these tactics don't work for you, then consider the following mindset.
Wouldn't it be great to have a more positive experience? learn how to stop self-critical thoughts with this NLP Mindset with the following simple technique.
Using curiosity
If you become curious about your inner critic, you may want to learn more about it. What does it want, really? What's behind the barrage of negativity? What if you allowed it to just keep talking? Would it go on forever?
Sound risky to see if it would? Well, the great news is…
It wouldn't go on forever.
Try this little experiment: First, get curious about your inner critic. What makes it tick? Then, consciously listen to the sound of the critical voice in your mind. Listen with curiosity! Whenever it finishes a sentence, then talk back to it. Mentally repeat what it says and then reply with an "and…?"
For example:
Inner Critic: You're going to fail miserably.
You: I understand. I am going to fail miserably, and…?
Inner Critic: And you'll never recover!
You:  OK, and I'll never recover, and….?
Inner Critic: Because you're unworthy of success.
You: I get it. I am unworthy of success, and….?
What typically happens after several rounds of this kind of inner dialogue? The inner critics does one of two things:
It either goes quiet and disappears or It begins to offer encouragement or positive remarks.
When it feels like our inner critic is out of control it's usually when we get a negative statement, we then feel bad, and because we feel bad we try to ignore it. Trouble is it counters with another negative, usually unrelated to the first, and it all starts up again….
So how to turn it around
By respectfully acknowledging your inner voice you can see that the negative suggestions that it sometimes comes up with really don't lead anywhere after all….
In a matter of minutes, you can turn your inner critic around!
No need to ignore it. No need to distract yourself and no need to get upset. Just become curious, listen consciously and talk back to yourself
Remember – your inner critic is just trying to protect you, to point out where you could do better. It's just sometimes the voice sounds harsh and isn't particularly helpful. It's still your voice though and ignoring it is just going to make it feel it needs to speak louder for you to hear.
I love the phrase "be nice to yourself…..", and it really works!
Would you like to know more?
Our blog page has many more articles for you to read.
Alternatively, head over to our NLP glossary where you can find a list of NLP terms with lots of links to articles.
If you'd like to find out more about our courses where you can learn more head over to our courses page. 
Thanks for reading!
Chris
ABNLP Trainer
Founder: Insights NLP
Phone +62 (0) 812 3895 2053